The Alaska Veterans Emergency Fund:
The Alaska Coalition for Veterans and Military Families strives to provide free continuing education opportunities wherever and whenever possible so service providers are equipped to better serve Alaska's Service members, Veterans and Families. To augment our in-person training events, we have identified leaders in the field who provide online trainings and continuing education for free.
​
The Alaska Coalition for Veterans and Military Families does not endorse any training platform, but seeks to provide quality and free training opportunities whenever possible.
The Alaska Coalition for Veterans and Military Families is a network of organizations throughout Alaska who work together to assess and meet the needs of our Service members, Veterans and their Families. The Coalition's mission is to educate, inform and help connect this population with services within Alaskan communities to ensure healthy futures.
Through statewide coordination and collaboration, the Coalition forms partnerships with service providers who have programs and resources available to assist the Military and Veteran community. Coalition members provide information, training and resources to ensure a consistent, comprehensive approach to supporting our Military and Veteran population.
Formerly known as the Alaska Forget Me Not Coalition the Coalition was formed in 2011 as a result of Army OneSource (AOS), Alaska National Guard (AKNG) initiatives and a comprehensive study of Veterans in Alaska, conducted by the Alaska Department of Military & Veterans Affairs (DMVA).
The DMVA, AOS and the AKNG joined forces to create the Alaska Forget Me Not Coalition. The DMVA, AOS and AKNG worked together to identify key stakeholders throughout the state of Alaska and requested their participation in the outcome-driven coalition.
As a result of the initial meeting, five alliances were formed to focus on specific needs of the SMVF community: behavioral health and healthcare; finance and employment; faith and other services; legal; and child and youth.
As of 2018, there are four operating alliances: employment, legal, behavioral health and child and youth.
The Alaska Coalition for Veterans & Military Families is a 501(c)3 with the Internal Revenue Service. Our EIN is 83-2855885.
INTERESTED IN SUPPORTING THE coalition?
Donating cash in the easiest way to support the Coailtion. We also accept non-cash financial instruments like stocks, bonds, shares ETFs/Mutual Funds, artwork, and real estate. The Coalition does accept donations from Donor-Advised Funds. If you would like to donate your non-cash assets to the Coalition, please contact [email protected].
If you would prefer to directly steward your donation, you can donate gift cards. While gift cards for any vendor are appreciated, we ask you to consider donating Instacart and Lyft gift cards.
​Instructions on how to do so are below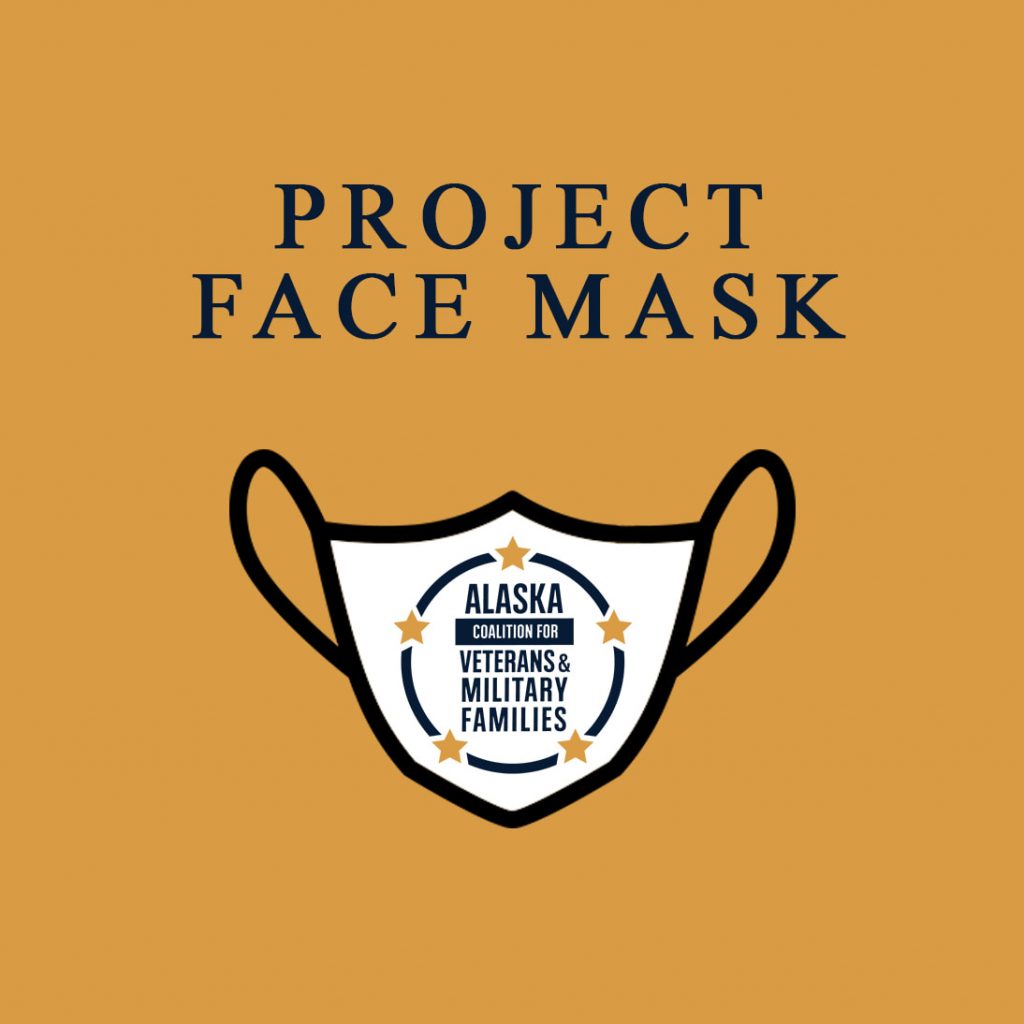 In March of 2020, the Alaska Coalition for Veterans & Military Families recruited military spouses who lost their jobs as a result of the COVID-19 pandemic to produce cloth face masks. The masks were provided free of charge to Alaskan service members, veterans, military families, nonprofits, and civilians alike. The "Project Face Mask" initiative successfully produced and distributed approximately 7,000 masks into communities across the state.